A journey through time to discover Lunigiana, in an ancient border territory, a blend of cultures and a meeting of different traditions.
Thanks to its strategic location you can visit the most characteristic villages in a short time and thanks to the Cisa A15 motorway (E33) and the Parma-La spezia railway line you can reach La spezia (5 Terre), Sarzana, Carrara, Lucca, Pisa and Parma in less than an hour.
Guided visits upon request by Sigeric – Servizi per il turismo
Medieval hamlets
An itinerary starting from the historic village a stone's throw from our Agritourism, Mulazzo. Famous for having hosted Dante Alighieri in exile in 1306, while he was commencing the draft of the Divine Comedy and a testament of ancient medieval architecture: from the Byzantine tower, to the remains of the Castle up to the Malaspinian Aqueduct.
Together with Montereggio, included in the list of Book Towns around the world, a village that tells the story of its inhabitants who since the nineteenth century travelled as itinerant booksellers throughout Italy. A journey to discover the many fortified villages and castles that dot the steep hills of Lunigiana: among the best known, Bagnone built on the gorges of the stream by the same name and dominated by the Malaspinian castle, Filetto, an ancient village built on the typical Roman-Byzantine castrum and Ponticello, set amid the verdant Valle di Caprio on the slopes of Monte Orsaro and further up to Pontremoli.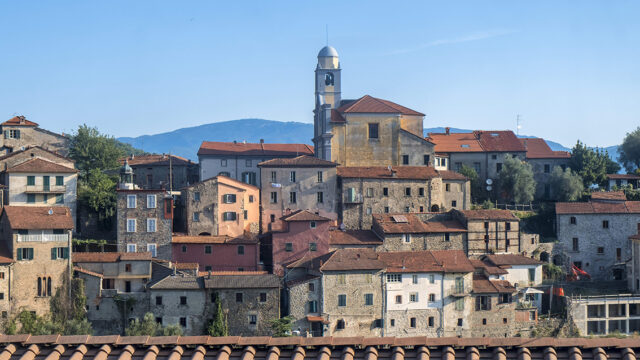 Distance by car from Ca' del Bosco
12 min
Approximate time taken
2 hours
Suitable for children
Yes
Lunigiana Gastronomy / Slow Food
Numerous hamlets and villages testify to an extremely fragmented territory yet rich in different identities. Each village boasts a slightly different recipe to maintain a gastronomic richness typical of Italian cuisine.
The history of Lunigiana, as a borderland between Emilia, Liguria and Tuscany, is told in its kitchens through a mixture of different ingredients, typical of the three regional cuisines. Numerous restaurants in the area prepare local delicacies, starting from slow food pesto Testaroli, typical savoury pies, prepared with freshly picked wild herbs and numerous dishes and desserts made with chestnut flour. And last but not least, typical Zeri lamb, a Slow Food presidium.

We will advise you on the best restaurants near our Agritourism in order to savour traditional dishes.